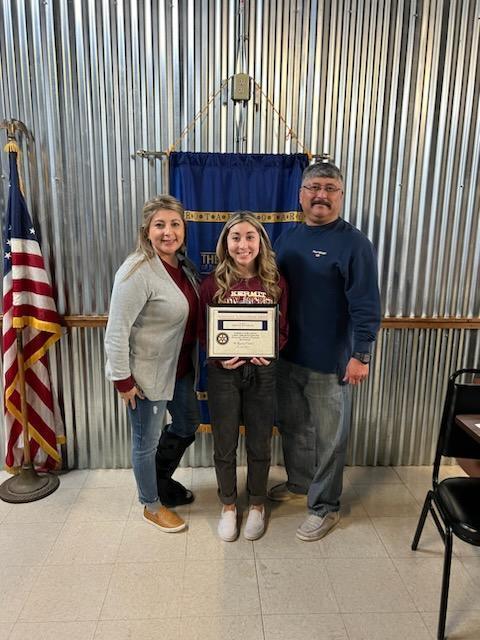 High School Rotary Student of the Month for November 2022
Zenia Florez, the daughter of Angela and Lorenzo Florez, was the Kermit High School November Rotary Student of the Month.
For the past 4 years, Zenia has participated in cheer, volleyball, cross country, powerlifting, and track. She is currently in the Student Council and Choir. She was previously a member of the KHS yearbook staff.
Zenia is a 2-time Regional Qualifier in Cross Country, a 3-time regional qualifier in powerlifting, the 2021 Regional Powerlifting Champion for her weight class, and a 2021 state medalist in powerlifting. In the 2021-2022 school year, Zenia was named the Cross Country MVP and was named Academic All-District in Volleyball and Basketball. This year, Zenia was named 2nd Team All-District in Volleyball and Academic All-District. Zenia is also a 2-time area qualifier in track. Zenia is the 2022-2023 Lions Club Sweetheart. She has been a member of the National Honor Society for 3 years where she currently holds the office of reporter. She is taking dual credit courses and will graduate from a high school with an Associate's Degree in General Studies from Odessa College.
Zenia's hobbies and interests are enjoying spending time with family and friends. When she is home, she loves to listen to Crime podcasts, especially Murder with My Husband. She likes music, fashion, especially shopping, and she loves to curl up and watch movies with her family.
After graduation, Zenia plans to attend college. She has been accepted and will be attending The University of Texas at San Antonio where she will major in Criminology and minor in Psychology. Zenia plans to pursue a career as a forensic psychologist.